Investment Dollars Flow to Green Energy Start-Ups
The Wall Street Journal
By Russell Gold
February 3, 2010; Page B1
Start-ups developing products aimed at wringing every last drop of efficiency from green technologies have become the standouts in the increasingly crowded field of renewable energy.
These companies are gaining favor, in part because they don't require a lot of cash to bootstrap, a big draw at a time when there's not much financing available.
Other winners in the investor sweepstakes are companies seeking to replace existing power grids to allow utilities to interact with home appliances, turning them on when power demand is low and electricity is cheaper. Makers of more efficient electric cars are also getting cash, with the U.S. government providing large loan guarantees.
Meanwhile, investor interest in turning inedible plants into liquid fuels has cooled. Building biorefineries can cost well over $100 million and venture capitalists aren't ready to underwrite these experiments after some high profile crashes triggered in part by falling oil and natural gas prices.
Two big deals worth a combined $500 million highlight the changing sentiment. Industrial conglomerate United Technologies Corp., best known for its helicopters, jumped into the wind business. Another deal brought chip maker Taiwan Semiconductor Manufacturing Company Ltd. into solar.
In the third quarter of 2009, clean energy received 19% of venture capital investment in the U.S., second only to biotechnology, according to a report by PricewaterhouseCoopers and the National Venture Capital Association.
"There are multiple drivers," said Neil S. Suslak, managing partner of Braemar Energy Ventures. Among them: a desire to cut greenhouse gas emissions, upgrade aging power systems and find domestic sources of energy.
Here's a look at key sectors and companies in the clean-energy industry.
Energy Efficiency
Using technology to reduce energy consumption is by far the hottest sector right now. A big reason is that the companies behind this approach promise a shorter path to profitability.
Start-ups can move quickly to a revenue-producing business, said Joe Muscat, Ernst & Young's Americas cleantech director, "so that has attracted a lot of people to that sector."
In the public markets, companies such as energy-management firm EnerNOC Inc. and low-energy LED lighting specialist Cree Inc. were darlings last year. Both stocks more than quadrupled in 2009. Cree emerged as a leader in low-energy lighting as interest in replacing incandescent bulbs soared. EnerNOC sells low-cost ways to cut corporate power bills.
Private start-ups may have been even hotter among venture capitalists and private equity investors. One that has drawn a buzz from investors is Serious Materials Inc. It sells energy-efficient windows and later this year will add a type of drywall that emits less greenhouse gas during manufacturing than gypsum. Growing interest in "green" buildings has helped boost revenue.
Also triggering a lot of interest are companies such as Powervation Ltd., which is working on power-saving semiconductor chips and software to run computer servers and networks.
Solar
Some industry observers believe solar power is ready to rapidly mature and expand. But the sector faces challenges, including a glut of solar panels driving down prices and cutbacks in government subsidies.
None of this stopped Solyndra Inc. from filing in December for an IPO. It makes cylindrical solar-power generating tubes for commercial rooftops such as warehouses, a design it says offers a low installation costs and high electricity production per square foot.
Smart Grid
Improving outmoded electricity-delivery systems is a top priority for governments. Swiss-based Landis+Gyr AG raised $100 million last year to expand its smart-meter business.
Silver Spring Networks Inc. builds the networking equipment to enable smart meters to communicate with utilities. It also sells software and services to power utilities to manage all this data and make sense of it. The company is believed to be contemplating an IPO this year. Tendril Inc., a Colorado start-up that raised $30 million last year, is focused on energy-management equipment for home owners. "Most of the people we are working with are convinced that some form of carbon [emissions] cap or tax is coming," said Chief Executive Adrian Tuck.
Wind
Turning the earth's winds into electrical power is the most mature and well-developed renewable energy. Many of the companies in the sector are already quite large, such as Spanish wind farm developer Iberdrola Renovables SA and turbine maker General Electric Co.
This sector also hosted the largest renewable energy IPO last year. That was China Longyuan Electric Power Group's $2.2 billion debut on the Hong Kong exchange. (The second largest was a $380 million offering by Boston-based A123 Systems Inc., a leader in the development of batteries for electric cars and hybrids.)
Transport
Last year was "a very good year to be an electric car company," said Dallas Kachan, managing director of consultant Clean Tech Group. The U.S. government was generous with grants and loans to this sector.
Tesla Motors Inc., a maker of high-end electric sports vehicles, secured $83 million in venture capital funding and $465 million in low-interest loans from the Energy Department last year. It is expanding its line to include a family sedan.
Another effort drawing interest from investors, in part for the mystery surrounding it, is V-Vehicle Co. It secured about $100 million in venture-capital financing last year and is currently expanding a facility in northern Louisiana to build a 725,000-square-foot plant.
Biofuels
Once a red-hot sector, interest in turning plants and waste into liquid fuel has waned recently. The cost of building a commercial-scale biorefinery — needed to test novel approaches — is in the neighborhood of $100 million. Companies have found it hard to get support in the current economic environment.
One of the exceptions is Canadian Enerkem Corp. In December, it received a $50 million grant from the U.S. government to build a waste-to-ethanol facility in Mississippi. It is also building a biorefinery in Edmonton, Alberta.
Write to Russell Gold at russell.gold@wsj.com.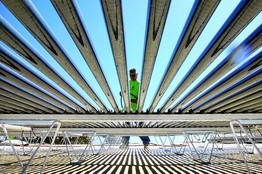 Russell Gold/The Wall Street Journal
A worker in Modesto, Calif., cleans tubular solar panels made by Solyndra, which recently filed for an IPO.