MC10 Wins Wall Street Journal Innovation Award
MC10's chips can stretch and bend.
The Wall Street Journal
Futurists have long praised the possibilities of stretchable electronics: smart clothing that can monitor the wearer's vital signs, miniature devices that conform to the shape of the body or sensors that expand or contract with the beating of a human heart. MC10 Inc., Cambridge, Mass., is this year's winner in the Semiconductors category for devising a method for making thin, flexible electronic devices that can stretch and bend.
Most of the semiconductors that power our digital life are flat, rigid wafers or glass—fine for phones and computers but not very useful for clothing or implants.
MC10 creates flexible electronics using techniques developed by co-founder Dr. John A. Rogers from the University of Illinois at Urbana-Champaign. First it makes chips one-fifth the width of a human hair, which are then transferred to a stretchable rubberlike polymer and connected by tiny wires. This creates a mesh that is flexible enough to bend or stretch with the underlying material, which protects the delicate circuitry from the stresses of the natural world.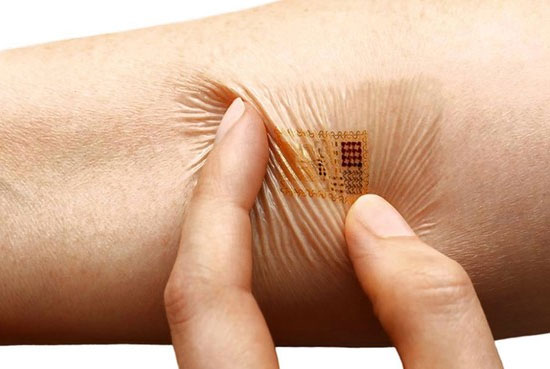 Reebok International Ltd. plans to introduce the first product using the technology later this year. David Icke, MC10's chief executive, won't give details about the product, saying only that it is a wearable device to help improve athletic performance.
The company also has developed a balloon catheter equipped with electronic sensors for heart patients. Researchers plan to begin testing the device in humans in the next 12 to 18 months.
Runners-Up
Thin Film Electronics ASA, Norway, and Palo Alto Research Center, Palo Alto, Calif.: The first printed electronic circuit with rewritable memory.
Solar Junction, San Jose, Calif.: A new solar-cell technology that achieves greater efficiencies for concentrated solar photovoltaics.